Got out yet again yesterday. The morning trico hatch on this little gem of a creek was pretty good. I know of only one other person who frequently flies this little beauty. Its a very special New Jersey stream.
I got several with the J.E.U. trico emerger. Once the spinners began to fall the cosmic cripple spinner worked like a charm. Oddly more trout were into the emergence then there was into the spinner fall. Perhaps the trout like the taste of duns better.
Once the action died off from the spinners. I had lunch and then I migrated up stream to an area with heavy tree cover. I got into position atop a really nice run. I took a brief moment, to watch the film. A carpenter ant went by, I let it drift, and disappear in a swirl of a rise. I tied on a parachute black fur ant. First drift yielded the brown that took the natural. I got several more trout as I waited down through the maple and sycamore grove area.
The black carpenter ant should be a pattern in every eastern anglers box. Trout hands down love ants. I consistently take trout that aren't even rising with a black ant. Many times and basically every time I go fishing march to November I see black carpenter ants on stream side trees. You can bet when you see this, that trout are well aware of them. A tree to look for is a swamp maple. These are very common stream side trees here in the northeast, and ants love them. Trout seem to really be on the look out for them on breezy days, in the afternoon hours.
I contend for dinner, and returned for the evening hatch. This stream is minutes away from my house. The evening was great. The trout were ravenous.
I got back on the stream around 630, and continued working the ant. I took several more fish again with the ant pattern. I was prospecting the likely areas.
Once dusk was officially on. The stream light up. Trout rising every where. I wondered what it could be that was making them go bonkers. I waded out into the line of drift with my seine. I collected many Male trico duns. I quickly tied on the J.E.U. Emerger. I was into trout from there on. The trout took the pattern very readily.
When it got a little to dark for me to see, I moved to an area which a parking lot light shines over the shrubs and onto the stream. I tied on a white caddis, which is a great moth immitation. I skittered it around in the area that the light shined on. I took several trout again. They would crush this fly either as soon as it hit the water or when i skittered it.
All in all I caught a lot of trout. All browns and all wild. Find cold water and you can have a great time trout fishing in august!
Tight Ties
Johnny U.
And Now fish Porn. lol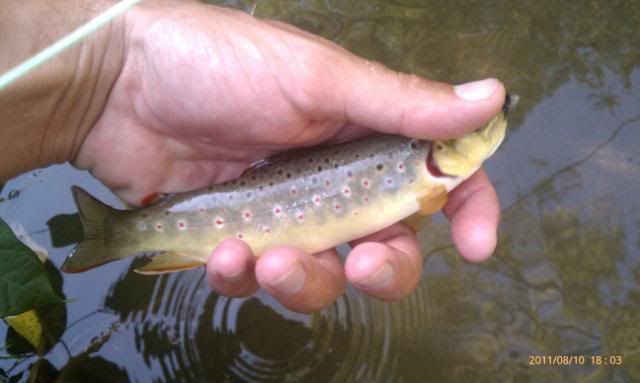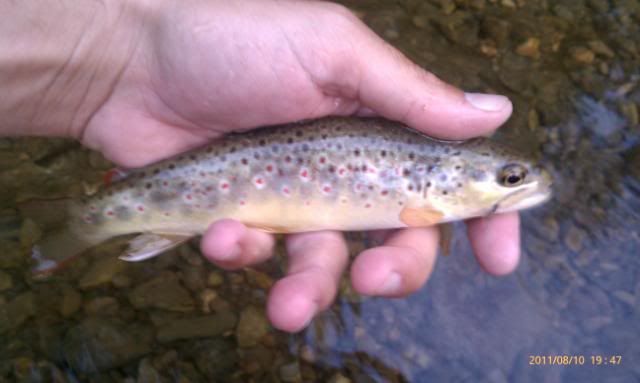 You can make out the J.E.U trico emerger in the corner of this wild brown mouth.