I got out to my local spring creek again for the evening hatch. I love this creek. Its beautiful and its abound with wildlife. The evening was a beautiful one for sure. I pick a spot and rigged up. The spot I pick was the end of a riffle heading into a glass run. I was quite surprised to see what started hatching hatching. I didn't expect these guys what so ever. They do come around again in September, but I have never seen them August. When dusk set in, these guys just started pouring off and the trout went nuts like they usually do during a good hatch.
I was out the night before for the evening hatch and these same mayflies started to hatch then to, but not nearly the numbers like today. By the time I noticed them it was to dark to investigate. I left the stream wondering what they were. Yesterday I got "more then four" In the evening hatch. I drifted with a floating nymph. A deadly pattern for sure.
Well back to this evening. I drifted a caddis over the vicious risers, and not even a look. At this time, I noticed the little mayflies hatching. I swapped out for an adams parachute #18, well I caught "more than four" with the adams. The mayflies just kept hatching. The hatch was rather prolific.
Any guesses what the hatch was?? Who this small Mayfly hatching in the evening in august??? Well I will tell you. SULPHERS!!!!! One landed on me and a quick look confirmed it. This little bugger stayed on me the entire time. I walked back to the car and removed my waders, put my bag, and my rod away. He stayed on my shirt the entire time. I had an old empty pill bottle in the care, so I got him to crawl in and I closed the lid.
I got him back to my tying table, I had to see what size this guy was. Because he was smaller than any sulphur Is used to seeing. He is a size 18. I got some photos of him and caged him. I want him to molt into a spinner so I can get photos of that stage.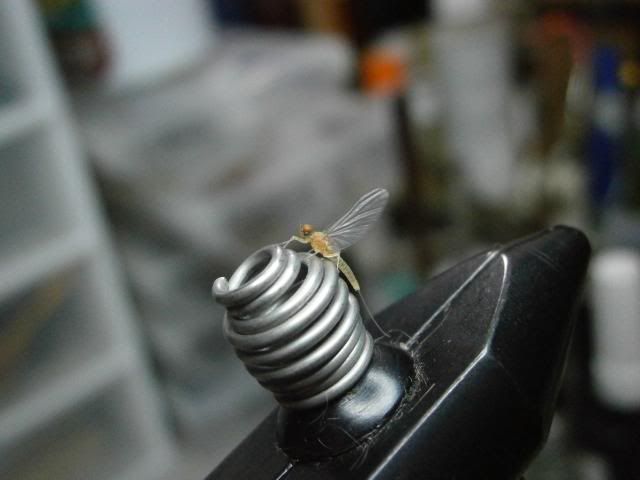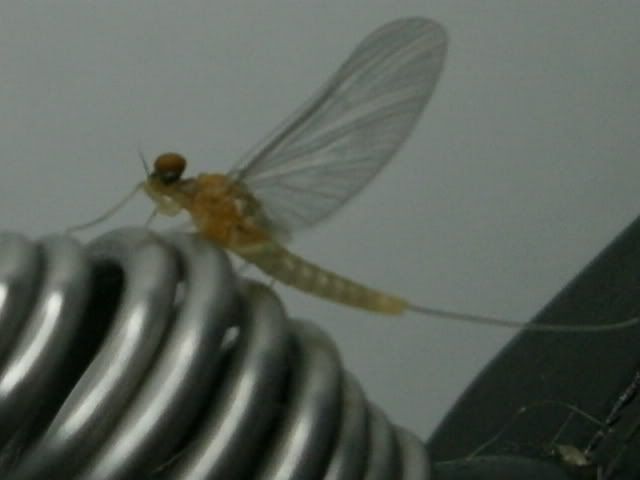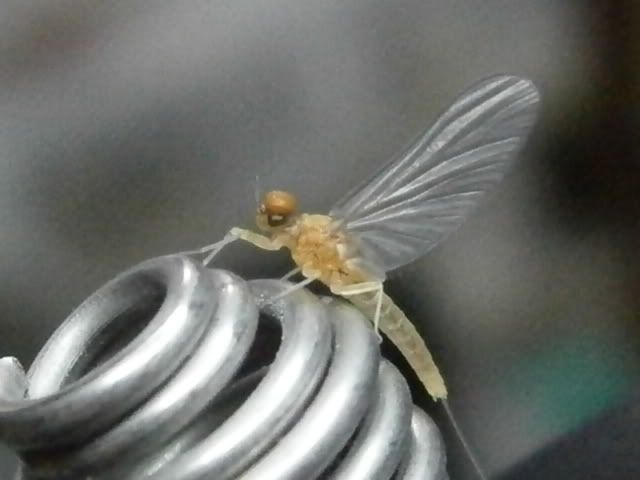 Notice the two toned body. Most sulphur in the area are like this one. Well they are larger in the spring. The abdomen says sulphur yellow, and the thorax is that distinctive sulphur orange, a amber orange. Hes resting on my material spring on my regal vise. He is a #18 hook for certain. Well he hung out on the clip while I tied several parachute to match him. Will have to tie up some #18 softys for the emerger and spinner.
Tight Ties
Johnny U.