Well the morning was HOT. The fishing was slow on the emergence side of the hatch. The spinner fall wasn't all that great. It got fish rising pretty well form 745-945. In this time Mad Man Steve and I couldn't get a hook set. We both were getting definite takes, just no one home on the hook set......I think we needed more coffee, but who wants a hot coffee when its 80 at 8am.
Mad Man was fishing a parachute trico, I started the day differently this time, as I always see caddis emerging here (pupal shucks in the drift, splashy rises) I put on a emergent sparkle pupa and it wasn't long before i had strikes, but like i said before...couldn't get a hook set... Well my pupa didn't last long as a fish broke me off on the swing.
Seeing that the hatch wasn't all that great, and some fish were not taking spinners, I put on a black carpenter ant. Within a drift or two, this guy grabbed and was hooked.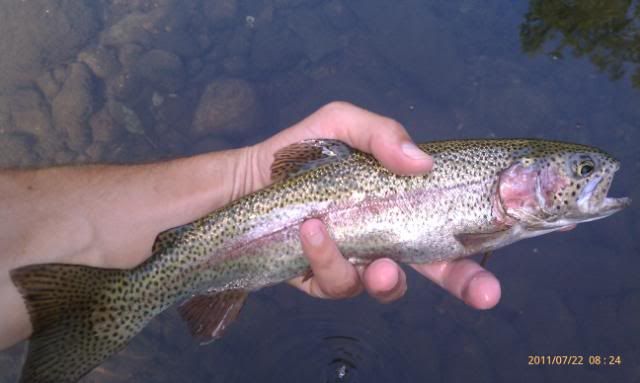 After his release, (and a throat pumping) I tied on a Tan caddis. A no hackle with tan dubbed head. After venturing down stream, spotting some browns rising and a 40' cast, I was battling this nice wild brown.
The browns really liked this caddis, I caught a couple more. walking back up stream, We spotted another brown rising, a cast, a skitter, and a compound refusal later, we continued walking.
After we arrived at the mouth of a tribe, and watching some trout rise. I cast my caddis and got another compound rise refusal. We observed the fish for a short while, and it was time nymph. In short work I brought these fish to hand.
trout bane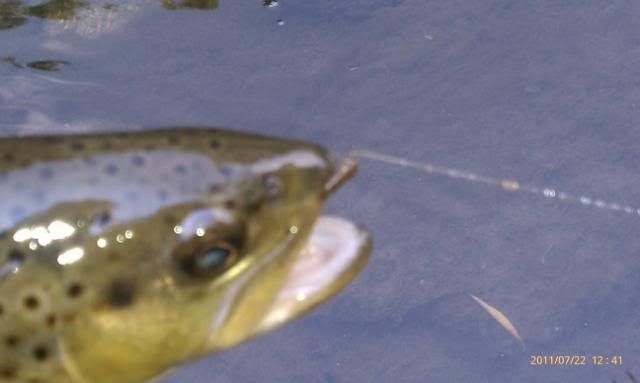 Trout bane
And The Hog
This fellow crushed a green rock worm.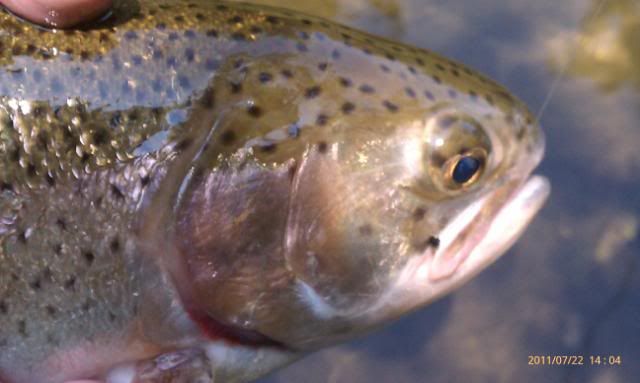 You can just make out the head of the rock worm in the corner of the trouts mouth.
This bow put up a great fight. While this fellow isn't wild, Its always fun to catch a bow this big when they have never been caught before.
All in all it was a good morning of fishing. The trico hatch wasn't much at all but with other bugs and hungry trout it turned out great.